Press
Last Updated: 4/14/15
News Articles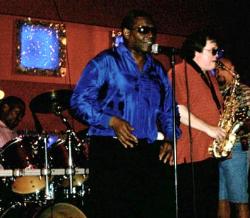 Blind R&B band Blue Mist returns for Waco gig
Press Releases
Enjoy "One Enchanted Evening" At Castle Hills
Castle Hills Development Sponsors Enchanted Fundraising Event for Big Brothers Big Sisters of North Texas
DALLAS, Texas (March 6, 2007) – Castle Hills Development is hosting an enchanted fundraising event for Big Brothers Big Sisters of North Texas on Saturday, May 19, 2007, at Castle Hills in north Dallas. Honorary chairs for the event are Mr. and Mrs. Derek Harper. Harper, a Castle Hills resident, is a former Dallas Mavericks basketball superstar and current sports anchor. The evening begins at 7 p.m. and includes hors d'oeuvres and cocktails, dinner, live entertainment, dessert and a silent auction. AVIP reception for sponsors begins at 6:30 p.m.
"Castle Hills has a reputation for community involvement and support. We are thrilled they have chosen Big Brothers Big Sisters of North Texas as the beneficiary of this event," said Charles Pierson, CEO of Big Brothers Big Sisters of North Texas. "Enchanted Hill is the perfect backdrop for the event with its hilltop gardens, koi pond, fountain and lush greenery. The evening is certain to live up to its name."
Celebrating its 80th anniversary, Big Brothers Big Sisters of North Texas is a volunteer organization that provides support, guidance, friendship and fun by matching children to adult role models. The agency's mission is to enrich, encourage and empower children to reach their highest potential through safe, positive, mentoring relationships.
The evening will start with a VIP reception for sponsors. At 7 p.m., guests will be greeted with hors d'oeuvres such as tequila roasted shrimp and Portobello mushroom bites stuffed with feta cheese mousse. The specialty drink of the evening is a colorful lavender martini.
The main course, served in the main event tent, will include Chianti-porcini marinated tenderloin of beef and roasted asparagus. Coffee and dessert, a luscious tiramisu, will be offered in the rose garden.
Dancing to the funky sounds of Austin band Blue Mist will keep the evening lively. Guests can bid on silent auction items such as spa treatments and entertainment items throughout the evening.
"This event is a great way to support a worthy beneficiary. Big Brothers Big Sisters has been doing good things for children in our communities for 80 years. We see this event as an extension of our community support efforts and we are proud to be able to support them," said Chris Bright, event chair and Castle Hills developer. Castle Hills has been nationally recognized for its schools foundation.
Tickets for the event start at $150 per person. Sponsorships are available starting at $2500. For tickets or more information, contact Jamie Hawkes at 214-368-0909 or jhawkes@prexperts.net.
Visit www.bbbsnt.org for more information on Big Brothers Big Sisters of North Texas. Visit www.CastleHills.com for more information about Castle Hills.
Dear Friends & Supporters,
As the new year begins, we are gearing up for our annual gala, "A Show of
Hands in the Wild Lands," which will be held Saturday, March 24, 2007 at
Texas Disposal Systems Exotic Game Ranch & Pavilion in Creedmoor. We are
excited to announce that Fleming's Prime Steakhouse & Wine Bar will be
catering the gala again this year and BLUE MIST will provide the
entertainment! Blue Mist is a unique R&B Band from Austin - five of the
group's six members attended and graduated from the Texas School for the
Blind. Blue Mist was originally formed by lead vocalist Robert Kelley in
1978 and has been entertaining audiences ranging in age with a variety of
rhythm & blues, jazz, soul, and popular music ever since. The band has
performed with Various national acts such as: Little Milton, Joe Simon, D.
Train, The Platters and The Manhattans. Blue Mist has a tight, flexible
sound performed by professional musicians who have regularly played
together over many years. Robert Hadlock, main anchor for KXAN NBC Austin,
will be the Master of Ceremonies for the sixth year in a row. Special
thanks to Austin Galleries, Ann & George Attal, for their many years of
support.
On behalf of the Board of Directors, staff and families of Easter Seals
Central Texas, thank you for your continued support of this organization.
Easter Seals "A Show of Hands" Galas have raised over $300,000 for
programs and services over the last several years. Please mark your
calendars and join us again this year for an evening of dinner, dancing,
and live and silent auctions to support children and adults with
disabilities living in Central Texas. This is your opportunity to bid on
auctions items including, exclusive artwork from Austin Galleries, tickets
from Southwest Airlines, jewelry, as well as special pieces of art created
by children with disabilities. Also, enter into a raffle drawing for a
chance to win a Children's Playhouse! Tickets and Sponsorships are on sale
now, and going fast!! Reserve your seat today!
Sincerely,
Erin Taylor
Special Events Coordinator
Easter Seals Central Texas
(512) 514-6236
www.centraltx.easterseals.com
Mission:
Easter Seals Central Texas provides exceptional services so people with
disabilities and their families can fully participate in their
communities.
Vision:
We envision all people enjoying access, opportunities, and independence.
Erin Diane Taylor
Special Events Coordinator
Easter Seals Central Texas
phone: (512) 514-6236
fax: (512) 514-6525
etaylor@eastersealstx.com
Your support creates life changing solutions for children and
adults with disabilities.
Austin statesman.com Tuesday, August 13, 2002
Fans can enter Blue Mist's world on upcoming CD
Q: Please help me contact an Austin band called Blue Mist. The guys in the band are blind. They are great. Wonderful music—not trash. I saw them on the Austin Music Network. But nobody knows how to reach them. I have called Waterloo Records, and they do not know. They played at the Hard Rock Cafe, but nobody there knows how to find them. I want to buy a tape or CD of theirs.
— Mike Borden
A: Blue Mist is headed by founding member Robert Kelley. Many of the group's members have attended the Texas School for the Blind. Blue Mist frequently plays at the Speakeasy, and you can contact Kelley at robert@bluemistband.com. No CD is available at this time, but the group is in the studio preparing a debut album. Look for it this fall.
The Blue Mist name? Kelley says before he lost his sight his favorite color was blue.
September 2, 1999 Lake Travis View
ENTERTAINMENT
LAKE TRAVIS
Blue Mists cool off at Sam Hill
By Ben Niekerk
Lake Travis View
The Blue Mists helped beat the heat when they got the crowd jumping last Friday at Sam Hill Waterfront Grill with their funky R&B set. No one has to tell band leader Robert Kelley he has what it takes to be a star. When he starts singing and his band starts grooving watch out because you will lose your inhibitions and dance your blues loose. He is backed by Rex Pahoa on bass, Jimmy Vinson on keyboard, Rodney Hyder on drums and Brad Shultz on guitar.
I don't know what it is about funk but it seems to transcend young and old race and gender, it opens us all up to express ourselves with dance.
Fran Blinebury
Sir Charles keeping things in perspective
THE air was thick with cigar smoke and sweat in the tiny back room, where a band of blind musicians called Blue Mist was hammering out a Marvin Gaye song with enough soul and volume to make the tacky paintings on the walls of the Velvet Elvis shimmy faster than the King himself. In a corner that was about as cool as a sauna and as quiet as standing beside a jet engine. The dance Charles Barkley kept picturing in his mind was John Stockton joyous Harlem Shuffle off the floor of The Summit after stabbing that dagger through the hearts of the Rockets. I'm depressed. I'm disappointed he said I think the real shock won't hit until Sunday when there's no game to play. But this isn't what you call a disaster. Barkley, like the rest of us, got a glimpse of the real thing when he turned on his TV and saw pictures of the devastation caused by the killer tornado that blew through central Texas. Which is why when the Rockets gather Monday for their end-of-season meeting to tie up loose ends and divide their share of the NBA playoff pool likely more than $500,000 Barkley is inclined to propose the Rockets give all of that money to the residents of Jarrell. Those poor people, he said. The ones that didn't lose their lives lost so much of what they had. It tears you up to see the devastation and the looks on their faces. We lost a basketball game the other night. A game we had in our hands and let get away. So were sad and feeling sorry for ourselves because we aren't going to the Finals to play the Bulls like we all wanted. But well get over it. How do those people get over what happened in Jarrell?